Autumn has been kind to us though April, with warm sometimes still days for some gorgeous
Sunday morning runs & walks. It's been great to have the consistency of meeting from the
ASB centre, to regularly meet on the Sunday mornings now that the COVID settings allow.
Photos for newsletter and poster please!
There will be some terrific photos from your travels by foot around Wellington or further
afield. Would you be able to send some of your best for the newsletter? Also, the committee
is hoping to put together a poster or flyer, to let potential new members know of the WRW
with its new name & website. Do you have a photo(s) which captures something of the very
special nature of our running & walking around Wellington?
Next bus trip Sunday 29 May
Weather permitting, a trip is planned to the Baring Head area ….
Date: Sunday 29th May 2022 @8am
Pickup from: ASB Centre, 72 Kemp Street, Kilbirnie, Wellington
Going to: Eastbourne and Wainuiomata South Coast/East Harbour Regional Park – Carpark
Leave South Coast Carpark to return to ASB Centre: Approximately 12-12:30 return via Petone (Time allowing: a stop to grab a coffee)
If conditions on the day are not favourable for activities at these locations. The alternate location will be:
The car park of Belmont Regional Park at Cornish Street.
Number of people: approx 30 – 40
Bus Pickups and Return
• Leave from the front of ASB Centre, Kilbirnie at 8am
• Railway Station 8:10am
• Ngauranga Gorge / Hutt Road 8:20am
• Drop off at Eastbourne about 8:45 am
• Proceed to East Harbour Regional Park via Wainuiomata to South Coast Carpark
• Return to ASB Centre at approximately 12-12:30 pm
Bus Seat Registration
Bus Seats Reserved
| Name | Bus Seats | Pick up |
| --- | --- | --- |
| Felia Veth | 1 | Wgtn Railway Station 8:10 |
| Mikey Clarke | 1 | ASB Stadium 8am |
| Mark Growcott | 1 | Ngauranga Gorge, Hutt Rd 8:20 |
| Peter Firth | 1 | ASB Stadium 8am |
| Annie Mccabe | 2 | ASB Stadium 8am |
| Mangu jas amarat n nirmala | 4 | ASB Stadium 8am |
| Tasi Takuira-Mita | 1 | ASB Stadium 8am |
| Toni Finkle | 1 | Ngauranga Gorge, Hutt Rd 8:20 |
| Bill Frecklington | 1 | Wgtn Railway Station 8:10 |
| Susan Millar | 1 | Ngauranga Gorge, Hutt Rd 8:20 |
| Mo Bhikha | 1 | ASB Stadium 8am |
| Sheryl Vibert | 1 | ASB Stadium 8am |
| Alicia Bunge | 1 | Wgtn Railway Station 8:10 |
| Judith | 1 | ASB Stadium 8am |
| Lisa cheney | 1 | ASB Stadium 8am |
| Bice Awan | 2 | Ngauranga Gorge, Hutt Rd 8:20 |
| Liya Liyanage | 2 | Ngauranga Gorge, Hutt Rd 8:20 |
| Nigel and Maryse | 2 | Ngauranga Gorge, Hutt Rd 8:20 |
| Sybil and Margaret | 2 | ASB Stadium 8am |
| Bruce and Janet Campbell | 2 | ASB Stadium 8am |
| Jane and Daniel O'Connell | 2 | ASB Stadium 8am |
| Gordon Clarke | 1 | ASB Stadium 8am |
Total Bus Seats Reserved 32
Calendar and Events
Great also to have some events restarting, for the satisfaction of taking part and incentive to
keep up some training. Some members have already been taking part in Xterra trail running
events. Others are training for the Wellington marathon event in June. Gordy is heading to
Palmerston North on 22 nd May to keep up with his tradition of running in the Striders
marathon event. The WUU2K is 16 th July. If taking part in events, do think of sending us a
photo and paragraph or two for the following newsletter.
The calendar for the year is taking shape, with the next bus trip planned for Sunday 29 th May
(see above for details). Dates for other possible bus trips during the year are 10 July, 4 Sept,
13 Nov. From Gordy's enquiries the Time cinema is looking to reopen, that could allow the
movie night to occur in July or August (date to be decided).
The WRW Calendar is here.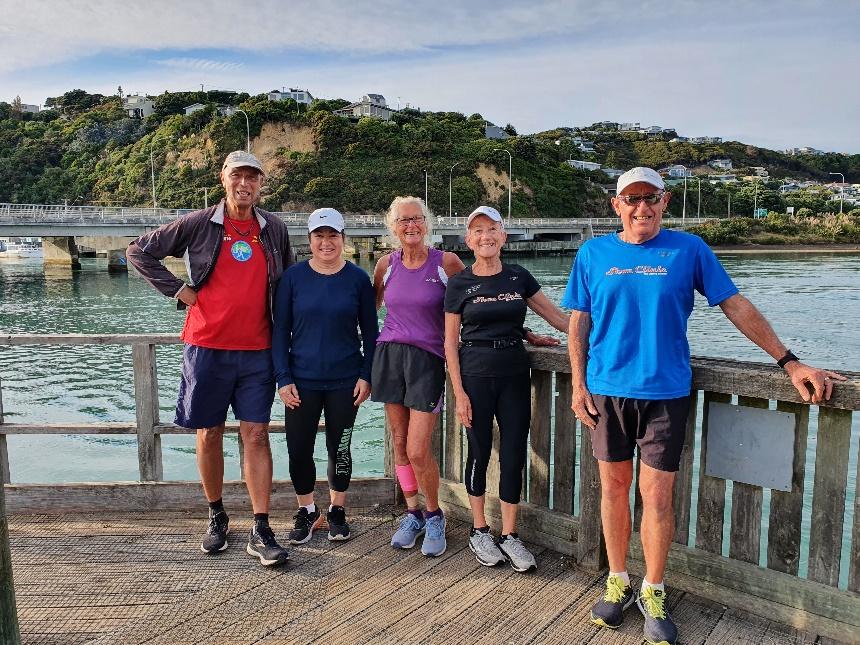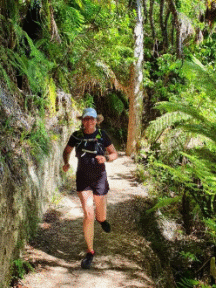 The Hills are Alive with the Sounds of Walkers
Peter Firth
The walking group is very fortunate to have Jane as our leader. From her extensive
knowledge of the tracks, paths and streets within a 5-kilometre radius of the ASB stadium,
she is always able to plan an interesting walk for us, having regard to the weather conditions
on that morning. Thus, it was that on Sunday 24 April, the weather gods were in good
humour and produced a fine and windless morning. Jane was ready for such an occasion and
soon had us car-pooling up to the Brooklyn wind turbine. We have done the walk from the
base of the wind turbine to the Hawkins Hill radar dome before but some time ago. A long
time ago it would seem from the gaps in my memory. A very long time ago. I recalled that
the turbine car park was just off Aston Fitchett drive, but no, it was actually a couple of
kilometres up a narrow winding road. My passenger Shirley and I were becoming convinced
that we must have missed a turning somewhere and lost the others when Shirley suddenly
cried out "There they are!" Much relief.

The road to Hawkins Hill is less than 4 kilometres but it encompasses some seriously steep
portions, much steeper than I had remembered. We set out,15 strong, in full sunshine and in
the absence of wind. There were a few "undulations" as Bill Buxton was wont to call them
but of no difficulty to we seasoned walkers. This part of the road ran alongside the anti-predator
fence of Zealandia. Leaving the Zealandia fence we came upon a private road
leading West down into a deep valley. A collection of colourful letter boxes pointed to the
existence of a number of refugees from the overwhelmingly busy, bustling metropolis of
Wellington.
From this point the land tilted up, way up. It proved to be rather hard going, even for
"seasoned" walkers like us, and soon the entire group was strung out over half a kilometre of
road. The most fit were having no real difficulty but it was noticeable how the pace had
slowed. Right at the back, the unfit were stopping every 10 metres or so to lean on their
walking poles, trying to catch their breath. Yes, I am ashamed to say, that was me.
Helpfully, Bruce stayed with me to see that I did not become a particularly large piece of
roadkill.

I was puzzled that I was having such a hard time. I did not remember any past difficulty
with the walk although true, that had been some years ago. I began to suspect that it was not
me, but the land. Clearly, the Kaikoura earthquake had caused an upthrust of land and the
radar dome was many metres higher above sea level than it was when I last walked that way
and so the going was much steeper. Comforted by that thought, Bruce and I inched along
until we reached our goal, celebrated by me by banging on the base of the dome with my
walking pole. "You made it!" said Jane. Was that a hint of surprise in her voice? No, she
was just pleased that the last of her flock had reached the goal.

Now, it is a strange thing that in the universe, the rule of nature is normally: first the pleasure,
then the pain. Just think of an over-indulgence of alcohol in the evening and the resulting
pain the next morning. In this case however, the rule was inverted, first the pain of getting to
the top and then the pleasure of achievement followed by the greater pleasure of a stupendous
view. All around from the top of the Hutt Valley, round over Wellington Harbour, the
Orongorongoes, the Harbour entrance, Cook Strait, the North-eastern corner of the South
Island and still going, around to a view toward Mana Island. About 270 degrees I would
have thought. Wunderbar! as the Germans might say. The sky was now laced with a
delicate tracery of high-altitude cirrus and, at the top of the hill there was just a whisper of a
Southerly. Glorious, truly glorious.

The air was so clear that the South Island coastline appeared to be so close that you could
have picked up the smallest and lightest of our group and thrown her across Cook Strait.
Perhaps a business opportunity for a canny entrepreneur? Set up a big catapult near the
dome and fire paying passengers over to the mainland? Mind you, it would be a long walk
to civilisation for the new arrivals

Standing underneath the radar dome its size was clear. Far from the familiar tiny white dot
on top of Hawkins Hill, it is quite a robust structure at the site. Jane's astuteness in choosing
this particular morning for the walk was evident when one considered the massive concrete
wind-break wall to the immediate West of the dome. In a strong Westerly or North-westerly,
the wind must be ferocious. No standing around gawping then. You'd soon be wind-borne,
well on the way to the Chatam islands. Interestingly, the operational life of the air traffic
control radar inside the dome is coming to an end. SSR, or secondary surveillance radar, has
been used for decades now world-wide as the primary means of detecting and controlling
aircraft away from airport located radars. SSR is being replaced by a new system called
ADS-B. I won't bother you with the meaning of that acronym but basically it is a method of
controlling planes by using satellites.

After filling our minds and souls with the awe-inspiring views, we started back down the road
to the wind turbine. Jane must have tasked the Campbells with Firth escorting as Janet
accompanied me on the lung-saving downward trail. By now it was mid-morning and the
first of the mountain bikers started appearing. My shame at my dreadful performance on the
way up was mollified slightly by the sight of one of the bikers dismounting to push their bike
up the hill. Amazingly, there were also one or two runners going up at a surprising pace.
They must have had lungs the size of a horse.

Further down, the road up from the city refugees' yurts became busy with a succession of
Dork wagons and utes, all heading downtown for a Sunday morning coffee. As for me, I had
the dismal achievement of being last to arrive at the radar dome and the last back at the wind
turbine.

Back down in Brooklyn, we took our customary recovery coffee (and tea and hot ginger
drinks) at the Penthouse cinema cafe and very pleasant it was too.
Thanks Jane, for a magnificent walk.

This walk is thoroughly recommended for all WRWer's but be warned, it is a little
challenging for the unfit and is weather dependent. So, when the moon is in the seventh
house and Jupiter aligns with Mars, there may be just an ideal day to head for the hills.