Planned WRW Dates for the Remainder of 2022
Provisional dates:
Sunday 25 th September Bus trip
Saturday 5 th November Annual Dinner
Sunday 4 th December Bus trip
Sunday 11 th December Annual General Meeting (AGM)

Note: Booking forms for these will be posted on the website at a later date
The bus trips continue to be a highlight, usually and a lot of fun. It's great to have the
variety of running or walking in different and sometimes new places around the
Wellington region. As well as the time to talk over coffee or brunch to look forwards
to, at the end before the bus trip back to the city. Given the bus trips have been well
subscribed we are aiming for two further bus trips during the remainder of this year.
Locations for these bus trips are yet to be determined. Sean has generously organised
the bus trip bookings and locations so far this year. As for the last trip to QE2 Park,
we'll aim for all-weather locations. So that the bus trips could still go ahead despite
all that the weather gods have thrown at us lately over winter – with rain, cold, wind,
lots rain-saturated ground and land-slips. If you have ideas for the bus trips let us
know.

The club annual dinner is planned for Saturday 5th November. This should be an
enjoyable evening and we hope as many as possible will decide to attend. Bice, Lisa
and Maryse are leading organisation. At present we are looking into venue options,
including those we've used and seemed to have worked well before. The WRW is
intending to provide partial sponsorship to encourage more to attend, provisionally
including $25 of the cost for paid club members.
The Andy McNeill event, held at Waimapihi Polhill Reserve in recent years, has
needed to be deferred. We aim to run the event again in the future, hopefully next
year.

The AGM is planned for the end of the year as usual. As the WRW is your club, it's
worth thinking about over the time until the AGM what you'd like to see the club
WRW doing. Thanks to all those who contribute in different ways: coming along on
Sundays, leading running & walking groups, newsletter items, organising events and
with skills that help the club. As we gradually emerge from winter and COVID
restrictions, we hope to get out more walking and running, to have more people know
about the WRW through our new website and other means, and to support existing
and new members.
Website
Our new website at https://wellyrunwalk.org.nz/ went live early this year and
improved functionality continues to be added. Stan Wing has continued to administer
and add to the site over time – thanks Stan! The sign-up form for the last bus trip was
on the 'bus trip' page under Events, hopefully easy to find. Recently, the site has been
made more secure – note the 's' in 'https'. Also, we have a new longer-term webhost
(Crazy Domains) suited for the new website. The old WMC website will continue to
be accessible, advising visitors of the new website, with the old webhost (Dreamhost)
until February 2024.
Cups and Trophies
Please let Gordy know if you participate in any Wellington or regional running &
walking timed event. For example, some of the club members are signed up for the
Rotorua Marathon soon, and others have participated in Xterra and other more local
events during the year. We (esp.Gordy) are keen to know of any events in which club
members are participating. With fewer organised events so far due to COVID-19, it is
expected that the trophies and awards will be adjusted to align with what members
have been doing.
Last Bus Trip, to QE2 Park on Sunday 10 July
Our winter bus trip was to QE2 Park. We had the pleasure of a slightly smaller but
newer and very comfortable bus, and helpful driver. The trip out was surprisingly
quick, via Transmission Gully which had not long opened. We were all dropped off at
MacKay's Crossing, with the different running and walking groups taking routes of
varied distance to all end at Paekakariki township and cafes.
Here are a few photos and links to accounts by Peter and [any others] about the day.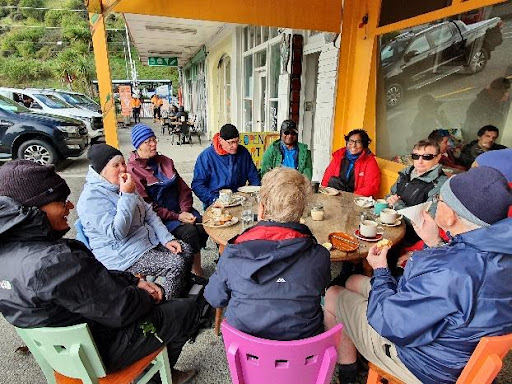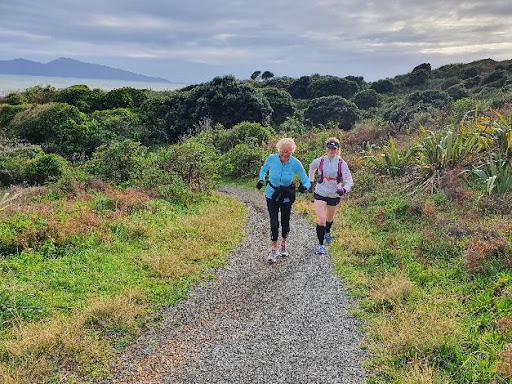 Polar Trekking in QE2
8.02 am Drive into Western end of ASB Stadium car park slightly late to see bus
standing at Eastern end of car park. 8.03 am get out of car to collect backpack and
walking pole from boot. Look up to see bus departing, Jaw drops open.
What? Why? I had booked for the trip and here they were, leaving without me.
No time to wonder why, I'll have to try and catch the bus at one of its stops. Off I
screech, heading for the bottom of the Ngauranga Gorge, the only stop with car
parking available. I arrive just as the last of the team is stepping on board. "Hold
the bus!". Inadvertently, in my rush I had parked in a 10-centimetre-deep puddle of
rainwater. Fortunately, though, I ran to the door of the bus so fast that my feet just
skipped across the surface of the puddle like a basilisk and I did not get my feet wet.
Thank goodness, wet feet on top of what was to come later would have been just too
much.

On the bus Gordy looked at me with surprise. "You're not on the list" What? I'm
sure that I had booked, but then, my memory is not what it was. Perhaps I had ticked
the Giraffe instead of the Kangaroo to prove that I was not a robot. Who knows? A
mystery.

The drive to QE11 Park over Transmission Gully was interesting. You can see a lot
more from the vantage point of a seat on a bus than you can from a car seat. Once
there we disembarked at the main entrance – and felt the cold. A Southerly wind
straight from the Antarctic Ice Sheet howled around us. Well, perhaps not howled,
but it was a stiff breeze and it lowered the "feels like" temperature by about 10
degrees. To me it felt like below zero but it was probably just above. This was
somewhat dismaying. I was wearing my normal walking light clothing. I tend to
get very hot when the sun is shining which it was emphatically not this morning. In
my hurry to get away from home I had neglected to consider the weather. An
omission that I would soon rue.

There was a wall-to-wall overcast in the sky but the cloud was not very thick as you
could just see the sun, looking like the top of a boiled egg in a bowl of milk. We
congregated at the entrance to the toilet block and most of the walkers took the
opportunity to pay a visit. Not me – the contents of my bladder were starting to turn
to ice.

As we waited for everybody to assemble, we saw Alicia jog past up the road, "going
to join my group" she explained. A few minutes later we saw her jog back down the
road, "Wrong group" she grinned. Who would have thought that there were other
masochists out this morning? Soon she was back again running up the road but this
time within a group of familiar faces. Well, thank goodness she got that sorted out.
With all her chicks assembled, leader Jane set out at a good pace aiming for the
Northwest corner of the park. Much work has been done to separate the farm from
public areas and the paths are now sealed, a far cry from the muddy, dung strewn
tracks we used to squelch through. Although the Park seems flat there are a few
gentle undulations, and it is easy for a straggler (me) to lose sight of the main group.

Over the years, due to increasing age and an increasingly dodgy heart, my
comfortable walking pace is slower than that of the pack. Usually, I walk with Janet
who now goes at the same pace. But Janet was not there that day. She was visiting
family in Ohakune with Bruce. I envisaged her chin deep in the Family spa pool,
warmed right through. So as not to lose sight of Jane and the group and become lost,
I kept up an accelerated pace.

Enveloped in the bitterly cold wind I was by now freezing. My hands and probably
my face were blue- gray. My nipples could have cut glass. What a way to spend a
Sunday morning! At least we were getting plenty of fresh air. Reaching the far
corner of her planned walk Jane now turned South heading for Paekak. The dunes
we were now walking through were a little higher than the bumps in the middle area
so there was a longish period where we were roller-coasting along. This extra stress
on my heart took its toll and shortly before we reached the entrance to the village, my
legs went all rubbery and I was forced to sit down.

Almost immediately I was surrounded by my fellow walkers offering water, sweets
and fruit and best of all, comfort and sympathy. I was a little nonplussed when Jane
said, in response to my explanation of an accelerated walking speed, that she had
increased her normal walking pace so as to minimise the time in the cold weather!
Double speed! No wonder I nearly had a face plant. Daniel, who closely monitors
the group's performance was sympathetic. "Well, you managed to cover eight and a
half kilometres at double your normal pace!" That was heartening.

After a short rest we were soon entering Paekakariki. Walking more slowly and thus
allowing a little blood to my brain instead of just to my legs and frozen body I noticed
a street sign identifying Tarawa Street. That brought to mind the reason for the
creation of the park and its history as the wartime base of the American 2nd Marine
Division. And from where it left in November 1943 for the Gilbert and Ellis Islands
(now Kiribas) and its bloody landing on Beito Island, one of the Tarawa Group. The
roughly 12,000 Americans of the 2nd Marine Division were no novices at combat.

They had fought a long campaign on Guadalcanal before being withdrawn to New
Zealand for Rest and Recreation. What is now QE11 Park was where a camp was
prepared for them. The assault on Tarawa cost the marines 3,100 casualties in 76
hours, more than a quarter of those who participated. When you are next at the park,
spare a thought for the dead and wounded. It is pleasing that their sacrifice is quietly
noted by this street sign.

Once into the beating heart of Paekakariki we found that a good proportion of the
local population had chosen to brunch at our chosen cafe, the Screeching Parrot, or
the Perching Penguin, or whatever it was called (as I said earlier, my memory is not
what it was). No room at the inn! We were obliged to huddle around a circular table
outside the door. At least the coffee has hot as well as good. Shortly after the
runners arrived, clearly invigorated by their runs. They moved on to another cafe for
their hot breakfasts, which they had indoors. How did they manage that? Another
mystery.

Meanwhile Transit Buses were having a jamboree. Our bus was parked across the
road. Another had broken down on the entrance to the village. A third arrived to
pick up the stranded passengers. Meanwhile a big white bus with darkened windows
and not readily identified as a Transit bus drove into the village past the broken bus,
turned at the end of the street and drove out again. Very sinister, I thought.
Well, all good things come to an end sooner or later, and before long we were heading
home travelling the Gully highway and looking at the feral goats on the sides that
Daniel pointed out. Fortunately for me I did remember where I had left my car and I
was soon home for a warming tot of whiskey.

How to sum up the morning? Perhaps as Kath and Kim used to say, "Different",
"Unusual", "Interesting".
Peter Firth